Emergency Medicine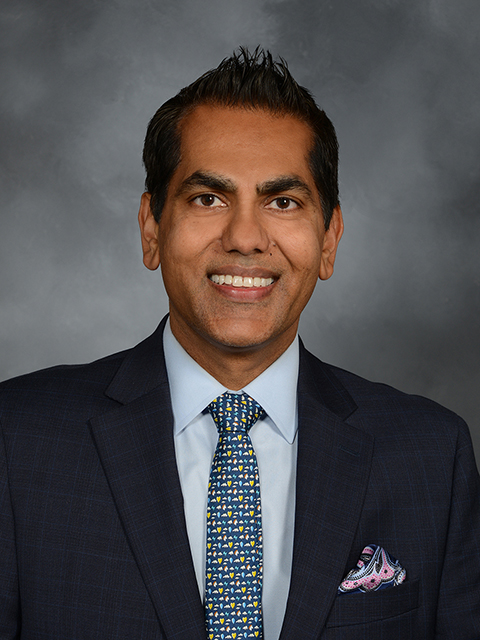 Dr. Rahul Sharma is the newly appointed Chief of the Division of Emergency Medicine and Emergency Physician-In-Chief for NewYork-Presbyterian Hospital/Weill Cornell Medical Center. He succeeds Dr. Neal Flomenbaum, who previously led the division providing decades of distinguished service, and who now serves as Chief of Emergency Medical Services. Dr. Sharma is bringing outstanding clinical, research, and teaching acumen to the division. Under his leadership, the division is expanding efforts to improve throughput, quality, and safety measures to continue to improve the outstanding patient care provided. In addition, Dr. Sharma has placed great emphasis on increasing the robustness of research and academic contributions, expanding the breadth and depth of research while also providing the highest level of clinical care by emergency medicine faculty.
Dr. Sharma previously served as Executive Vice Chief of Emergency Medicine at NYP/Weill Cornell, and prior to joining NYP/Weill Cornell, was the Medical Director and Associate Chief of Service of the emergency department at NYU Langone Medical Center. At NYU Langone, he led critical rebuilding efforts after Superstorm Sandy. He is the recipient of two national teaching awards, including the Emergency Medicine Residents' Association National Excellence in Teaching Award and the American College of Emergency Physicians (ACEP) National Faculty Teaching Award. He sits on two American College of Emergency Physicians national committees and serves an oral board examiner for the American Board of Emergency Medicine.
Known for his groundbreaking work on operational improvement, patient flow, and leadership development, Dr. Sharma is leading the division with a major focus on best practices that will allow physicians to spend more time with patients and thus enhance the patient-provider relationship. There are currently 60 Weill Cornell faculty members in the division who, during 2015, treated over 110,000 Emergency Department patients at the 68th Street and NYP-Lower Manhattan Hospital campuses.
Research is growing in the Division of Emergency Medicine with a research infrastructure led by Dr. Sunday Clark. In addition to research contributing to the scientific literature in the areas of Emergency/Critical Care, Geriatric Emergency Medicine, Global and International Health, Graduate Medical Education, and Wilderness Medicine, the division is expanding clinical and translational research focused on the use of technology and innovation (e.g. telehealth) as part of the clinical care model.
The NYP/Weill Cornell ED is officially designated as a 911 receiving hospital, a NYS level I trauma center, a stroke center, a spinal cord injury center, and a psychiatric emergency receiving center. It is also the burn center for the City of New York, a chest pain center, and maintains one of the largest hospital-based ambulance services in the northeast that provides basic, advanced, and critical pediatric and adult pre-hospital care.
---
Contact Us
Emergency Medicine
Rahul Sharma, MD, Chief
Georgia Rose, Administrator
Room M-130
Tel: (212) 746-0780
Fax: (212) 746-4883
grose@med.cornell.edu
Clinical Trials

View open clinical trials
Related Links

Emergency Medicine at NewYork-Presbyterian Hospital
Top of page