Roy (Trip) Gulick, MD, MPH Appointed Chief of the Division of Infectious Diseases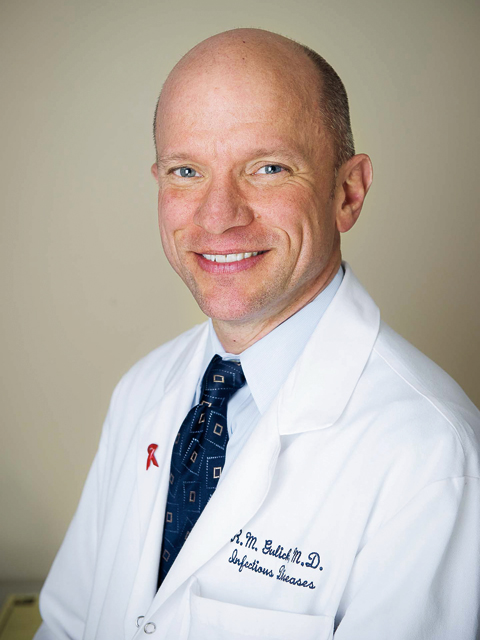 Following a national search, Roy (Trip) Gulick, MD, MPH has been appointed Chief of the Division of Infectious Diseases in the Department of Medicine at the Weill Cornell Medical College and New York-Presbyterian Hospital/Weill Cornell Medical Center, effective January 1, 2009. Dr. Gulick succeeds Dr. Warren Johnson, the B.H. Kean Professor of Tropical Medicine, who will assume the Directorship of a new Center for Global Health within the Division of Infectious Diseases.
Dr. Gulick received his undergraduate education at Johns Hopkins, and earned his M.D. from Columbia University College of Physicians and Surgeons. After completing residency at Columbia, he received his MPH from Harvard and completed fellowships at the Beth Israel and Massachusetts General Hospitals. He subsequently served on the faculties of Harvard Medical School (where he was Medical Director of the Virology Research Clinic at Beth Israel Hospital) and New York University (where he served as Director of the HIV Research Clinic at Bellevue Hospital). Dr. Gulick is currently Professor of Medicine at Weill Cornell Medical College, and Director of the Cornell HIV Clinical Trials Unit, where he is Principal Investigator of the NIH-funded AIDS Clinical Trials Group (ACTG).
As an internationally recognized leader in clinical research in HIV, Dr. Gulick led one of the first studies of 3-drug combination antiretroviral therapy for HIV infection (Gulick, et al, New England Journal of Medicine, 1997) which ultimately redefined the standard-of-care for HIV treatment and lead to dramatic declines in HIV-related morbidity and mortality. Dr. Gulick has subsequently spearheaded a number of other, novel antiretroviral strategy studies, including the ACTG 5095 study (Gulick, at al, New England Journal of Medicine, 2004), as well as studies of investigational antiretroviral agents, most recently including the HIV entry inhibitors (Gulick, et al, New England Journal of Medicine, 2008).
Dr. Gulick is a Board Member of the International AIDS Society-USA and serves on the Panel on Clinical Practices for the Treatment of HIV Infection of the U.S. Department of Health and Human Services. He was previously Chairman of the Antiviral Drugs Advisory Committee of the U.S. Food and Drug Administration (FDA), and Co-Chairman of the Forum for Collaborative HIV Research. He has been elected to membership in the American Society for Clinical Investigation. Dr. Gulick is an outstanding clinician and educator, having been recipient of the Excellence in Teaching Award of Weill Cornell Medical College.
This appointment continues a rich history of preeminence in infectious diseases at this institution and will build on the distinguished tenure of Dr. Johnson as Division Chief. In February, 2009, Dr. Johnson will receive the extraordinary honor of having the new clinical facility of the GHESKIO Institute for Infectious Diseases and Reproductive Health in Haiti named for him in recognition of his long term support and dedication to GHESKIO and the people of Haiti.
Top of page